ECMDC Signed the Strategic Cooperation Agreement with GFBM AKADEMIE
2017-11-15
On the afternoon and the night of November 15, 2017, a delegation from GFBM AKADEMIE, led by Siegfried Vogelsang, President of the Group, visited ECMDC's liaison office in Beijing. From previous rounds of amicable negotiation, the two sides signed the strategic cooperation agreement for jointly set up the Sino-Germany Cross Enterprise Training Center in China. Members of the delegation also included Ms. Yan Jun, Manager of GFBM AKADEMIE, Mr. Bi Jieli, Chief Consultant of the group in China, and Mr. Zhang Kaiqiang, Manager Assistant of the group. On the ECMDC's side, Chairman Zhang Yi, and Ms. Ingrid Jiang from EU-China Municipal Development Commission were present at the meeting and signing ceremony.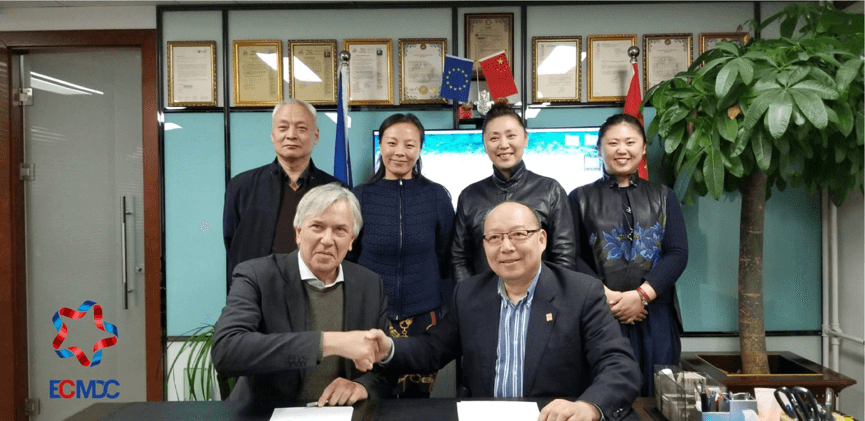 Chairman Zhang Yi (Front Row Right One) and President Siegfried Vogelsang (Front Row Left One)

Mr. Bi Jieli (Back Row Left One), Ms. Yan Jun (Back Row Left Two), Ms. Jenny (Back Row Right One), Ms. Ingrid Jiang (Back Row Right Two)
GFBM AKADEMIE, founded in 1992, is the largest education and training group in Berlin, German. It has been engaged by EU and Germany ministries and authorities to deliver training programs and has maintained successful and close cooperation with renowned German companies. It advocates the ideas of education-industry collaboration and combination of theory and practice. The cooperation between GFBM AKADEMIE and ECMDC in the field of vocational education is an effort in response to China's encouragement for developing innovative and entrepreneurial talents by providing open, situational and ad-hoc training programs through creation of a makerspace adapted to conditions in China and Germany. Instead of objective repetition, it focuses on identification and classification of ideas, so that the potential trainees are unleashed and enriched. Resources of both sides are leveraged to allow disciplines to intersect and interact as they would otherwise remain separate and parallel with each other, to promote synergy between disciplines and create effective platforms for education-industry collaboration.
Upon conclusion of the signing ceremony, Chairman Zhang Yi and President Siegfried Vogelsang agreed that the bilateral political and economic relations between China and Germany are the best in the history, as the prime ministers of both countries have promised to align "Made in China 2025 " and "German Industry 4.0" strategically to jointly promote the new industrial revolution and related activities. In this context, the proposed Sino-Germany Cross Enterprise Training Center is intended to be a strategic platform to create high-end intelligent industry talents for fulfilling the above two ambitious programs. It is expected to introduce Germany's dual systems of occupational talent development, industry technical standards, and certification and assessment standards as well as standards of quality assurance system, which would be localized while taking into account the industrial environment in China, to eventually establish dual-system or tri- system talent cultivation and supply based on and improved from German standards with Chinese characteristics.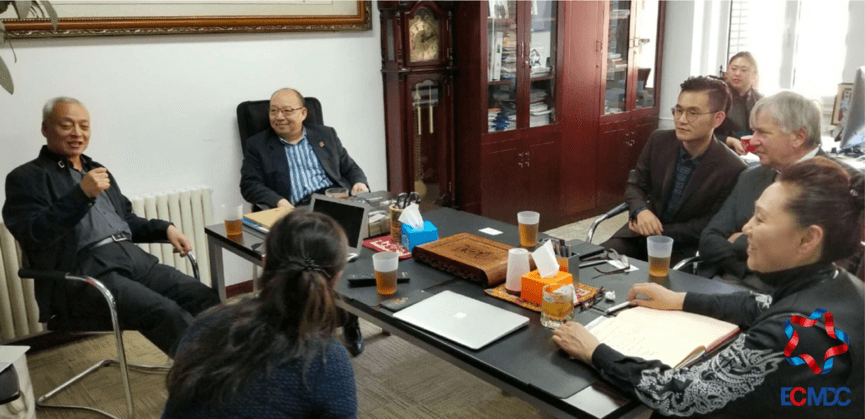 The Meeting
The two sides also exchanged views on selecting a city where the center is to be based as soon as possible, and jointly worked on the road map for implementation.