Zhang Yi Meets with CICCC Chairman Long Yuxiang
2017-11-29
On November 29, Zhang Yi, Chairman of EU-China Municipal Development Commission (ECMDC), as invited, meet with Long Yuxiang, Member of the Foreign Affairs Committee of the CPPCC National Committee, and Chairman of China International Cultural Communication Center (CICCC) at Shanghai Hong Qiao State Guest Hotel. The two sides shared ideas and discussed topics of common interests. Also present at the meeting are Ruan Xiwei, Chairman of Shanghai Zhongyuan Agricultural and Forestry Technology Development Group, and Ms. Ingrid Jiang, Chairwoman of EU China Municipal Development Project Management Co., Ltd.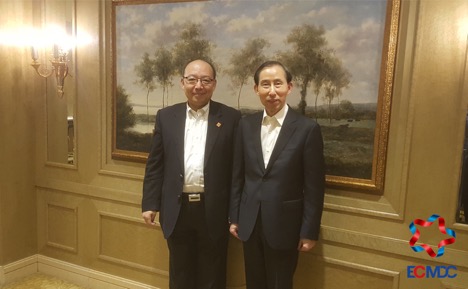 Zhang Yi and Long Yuxiang
CICCC was founded in 1984 with approval of the State Council. It has served as an important window of China for foreign cultural exchange and communication, to promote international cultural exchange, enhance the friendship with people around the world, safeguard world peace and stability, and promote common prosperity and development. CICCC has organized many large and influential cultural exchange and charity activities. It has made great contribution to promotion of China's economic development, cultural prosperity and social harmony. It has established friendly ties with politicians in more than 130 countries and territories of the world, and done fruitful work for China's international cultural communication. Simayi Tieliwaerdi was elected chairman of the center, and Long Yuxiang was elected executive chairman of the center at the Sixth National Congress of the CICCC held in Beijing on August 27, 2011.
Chairman Zhang Yi briefed Chairman Long Yuxiang on the reason and purpose of ECMDC as well as the work and projects carried out since its establishment, including the recent acceptance of serving as chairman of the World Film Association's council. Mr. Long highly recognized and appreciated ECMDC's work and gave clear instructions for the future cooperation between the two organizations.
As invited by and together with Mr. Long, Zhang Yi attended the Asian Music Awards ceremony hosted by CICCC at Shanghai International Fashion Center.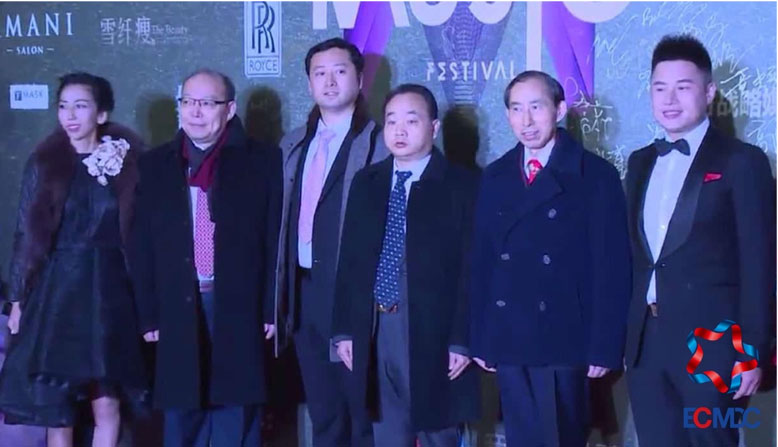 Picture at the Asian Music Awards ceremony
Related Link:
http://www.chinashande.com/read-1-3081.html?from=timeline&isappinstalled=0#10006-weixin-1-52626-6b3bffd01fdde4900130bc5a2751b6d1
http://m.v1.cn/video/v_14696728.jhtml?from=timeline